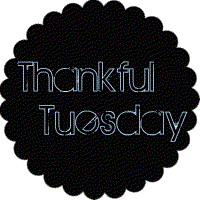 Today, I'm thankful for;
The snow my daughter has been so patiently waiting for & was thrilled to see this morning!
Family who loves us (and sent us a Jack Daniels pie and fudge! Thanks gramma! lol)
My wonderful, perfect in all his imperfect-ness, husband who goes out of his way to care for his family.
My whacky little hyper 17 month old boy! Life just wouldn't be the same without chaos he creates! lol
To have a warm place to call *home* this winter.
What are you thankful for?
Join in the Thankful Tuesday blog hop... just click the button to get the code, make your post and enter your link. Viola! Easy peasy.